The parking lot has a big impact on the curb appeal of any commercial property. A clean, well-maintained parking lot makes a good first impression on customers and clients, and also ensures traffic safety.  Most parking lots will need to be re-striped every 12 to 24 months, depending on how much traffic they receive. Here are the steps to take to prepare your parking lot for striping.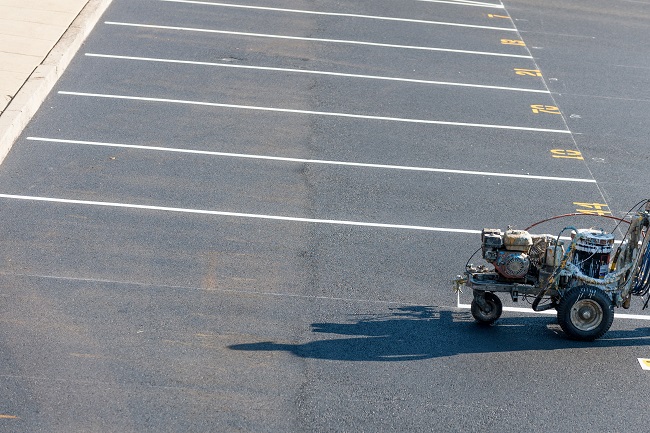 Inspect Parking Lot
Before striping, inspect the condition of your parking lot. If it has cracks, potholes, or other signs of damage, make any necessary repairs before having striping done. You should also apply seal coating, which will protect the surface from UV rays, rain, and leaked automobile fluids.
Make Alternate Parking Arrangements
No vehicles can be in the parking lot while the striping job is being completed. Let your employees and clients know ahead of time that they will need to make alternate parking arrangements. Give them as much advance notice as possible. The parking lot paint will need about an hour to dry before the parking lot is reopened.
Clean Your Parking Lot
An unclean parking lot surface can negatively affect the quality of the striping. Before your striping contractor arrives, ensure your parking lot is as clean as possible. Remove any trash, dirt, or gravel. If you have a large parking lot, consider hiring a professional cleaner before you have the striping done. If you're unsure, your striping contractor can advise you whether you need professional cleaning.
Turn Off Sprinklers
The parking lot's pavement must be kept completely dry throughout the striping project. If your property has a sprinkler system, turn the sprinklers off 24 hours before your striping job begins, and leave them off for 24 hours after it's complete.
For assistance with your parking lot striping, contact us. Our team of experts looks forward to working with you.